Wedding Catering Services
Catering with a style the quality touches all heart
Welcome to Black Diamond Caterer
Wedding Catering Services in Kolkata

What's the importance of a best catering service in a wedding
Weddings are a major affair in India. They are celebrated with great spirits, gorgeous décor, music and dance, colorful costumes, and unique food, just like any other celebratory occasion. According to recent wedding trends, guests are more concerned about the cuisine than anything else.
We can all agree that love is the food that feeds the union of two souls that results in a wedding, but the cuisine at your wedding is the food that fuels your guests. The last thing you want to worry about on your wedding day is the cuisine being of low quality and disappointing your guests! This is one of the main reasons why the Wedding Catering Services are just as crucial as the ceremony. Anyone who has already walked down the aisle understands the anxiety that comes with arranging a perfect day. Invitations, vows, speeches, and most importantly, your wedding catering are all factors to consider. We are Black Diamond Caterer, as a Standard Catering Services in Kolkata gives extra attention to the quality of the food items and provides first-rate catering services for all Bengali weddings in Kolkata.
Whether a wedding is held in a hotel or a wedding hall, the importance of food cannot be overstated. Weddings in India differ by location, depending on the family's and bride and groom's particular preferences. A lot of importance is placed on the food served at a wedding, even in the midst of extravagant celebrations.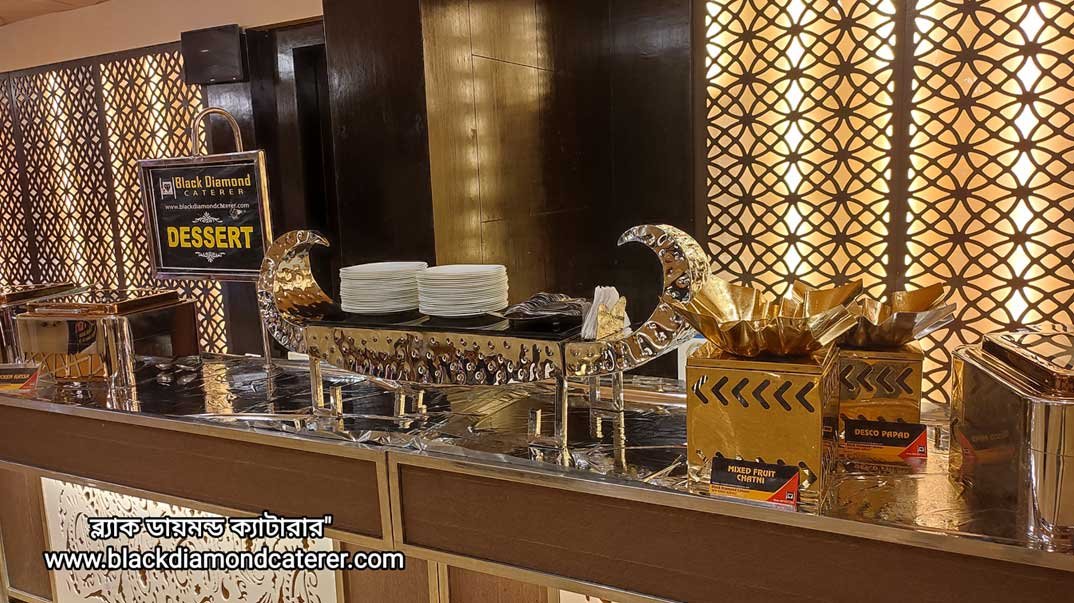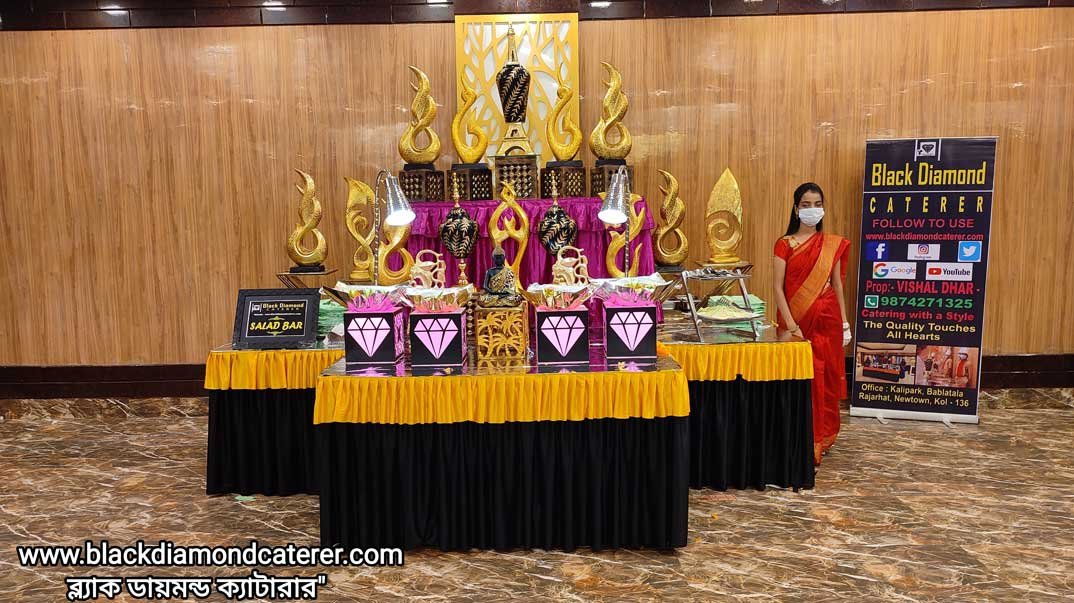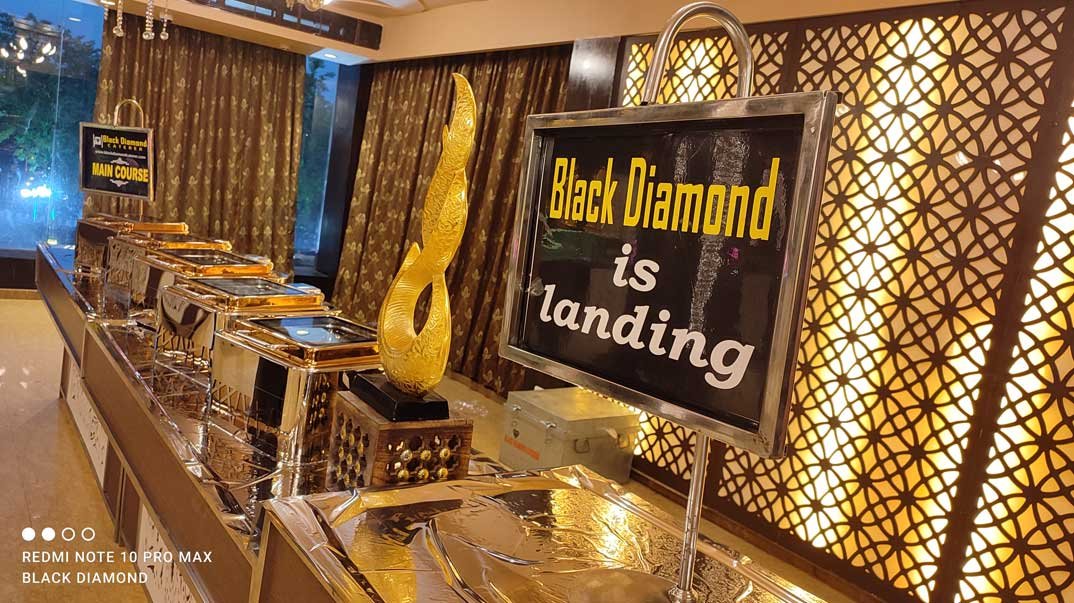 Your visitors will remember your cuisine for a long time if it is delicious. When it comes to choosing the wedding cuisine, striking the perfect balance is crucial. While Black Diamond Caterer, a Wedding Catering Services in Kolkata provides something for everyone, the food is of the highest quality possible. It also provides varied food options include a range of flavors, cuisines, and food items, as well as excellent presentation.
It is especially important in Indian weddings to not only get the food correct in terms of taste but also to maintain a certain degree of service and hospitality. Because the food is the main draw for all of your guests on the main day, Black Diamond Caterer helps in choosing the correct cuisine and catering for your special day which may otherwise appear to be a more difficult procedure than choosing the venue and outfits.
This emphasizes the significance of Black Diamond Caterer, Wedding Catering Service. It's critical to hire a professional like Black Diamond Caterer, a Wedding Catering Services in Kolkata that not only understands you and your partner's preferences but also has the capacity to cater to hundreds to thousands of people. The food supplied by Black Diamond Caterer will be sufficiently filling. Quality and service cannot be sacrificed because food is what draws people together.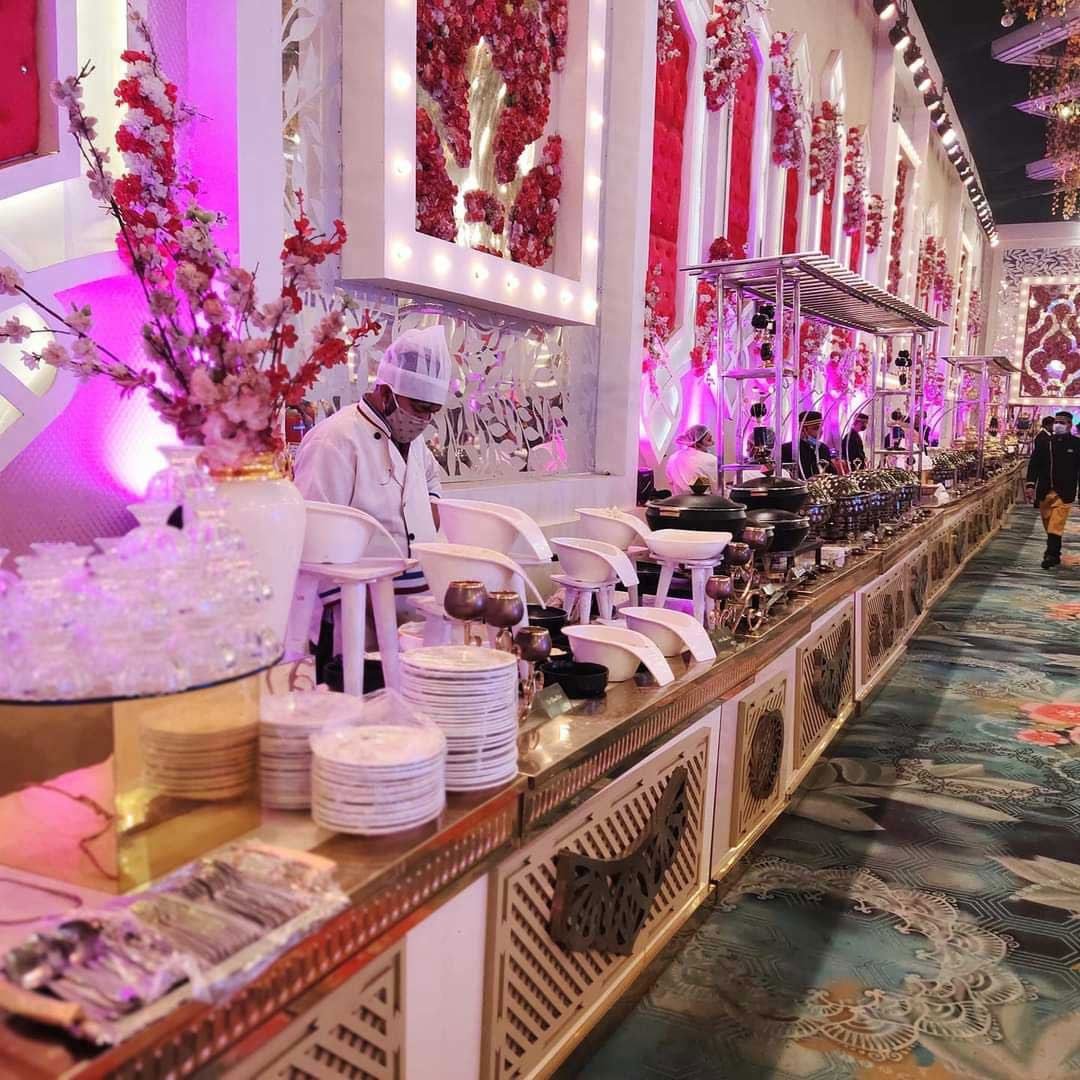 Choosing a Wedding Catering Services in Kolkata
Now that you understand the significance of catering during a wedding, let's go over some expert advice on how to choose a competent Wedding Catering Service in Kolkata like Black Diamond Caterer. Our suggestions are tailored to Indian weddings, and we guarantee you won't be disappointed:
The use of locally sourced ingredients: One of the most recent trends in the Wedding Catering Service is the preparation of specialties using local products. Black Diamond Caterer's meal is influenced by the flavors of the area. Guests at Indian weddings rave about the traditional food prepared with local ingredients. Fusion cuisine is also becoming increasingly popular. Black Diamond Caterer is well-versed in a variety of cuisines.


DIY stations or live counters: These days, DIY stations or live counters are very popular at weddings. The entire experience of having food created in front of them can be thrilling, and it has thus become a very popular notion. When you hire Black Diamond Caterer as your wedding catering service in Kolkata, there will be a live Chaat counter, a BBQ counter, and a special dessert stand, among other things.
 
Getting a sneak peek into a wedding caterer's catering equipment is a crucial thing to consider when choosing a wedding caterer. Black Diamond Caterer's catering service includes all of the dinnerware, cutlery, and setup. Also, the buffet lines versus elegantly served dishes. Guests are served on plantain leaves at South Indian weddings, although buffet lunches are more common at modern Indian weddings. When you choose a seasoned professional caterer in Kolkata like Black Diamond Caterer, all you have to do is sit back and relax because they'll handle everything.


Food and service balance: When it comes to choosing the meal menu, striking the correct balance is crucial. There should be something for everyone, and the food should be of the highest quality possible. Inquire with your wedding caterer about the possibility of pass-around appetizers. Guests at weddings enjoy indulging in small snacks as they go about. Guests will appreciate and recognize the hosts if the quality of the food offered at a wedding is excellent, as well as the service. So, sit down with Black Diamond Caterer, a Wedding Catering Services in Kolkata, and get to know that they are willing to supply you with a specific amount of hospitality as well as a delicious array of food.
 
The Importance of Professional Wedding Caterers in Kolkata
Reduces stress: While weddings are enjoyable for guests, they can be stressful for the host. When you engage a competent caterer like Black Diamond Caterer, they will handle everything and become your one-stop-shop.


Ensures that guests are well fed: Black Diamond Caterer will ensure that your visitors are well-nourished. They will prepare the meals for the Engagement, Pre-wedding party, Sangeet, Mehendi, Pool Party, Cocktail, or anything else based on your needs.


Professional Wedding Catering Services in Kolkata like Black Diamond Caterer know the ins and outs of the industry, so they'll always provide you excellent advice on what kind of cuisine your guests would appreciate. They have the capacity and capability to serve a wide variety of dishes from around the world.
There are no two ways about it: the importance of food at a wedding cannot be underestimated. Black Diamond Caterer, a Wedding Catering Services in Kolkata can meet all of your needs if you're seeking a professional wedding caterer. You want to have a good time at your wedding. Hiring a wedding caterer who can provide you with a one-stop shop and handle all of your needs is great; this eliminates the burden of dealing with many vendors. If you're having a multi-cultural wedding or have guests from many ethnic backgrounds, the food is crucial in making everyone feel welcome. Black Diamond Caterer may assist you in ensuring that your aim to present a variety of menu alternatives is realized.
Wedding caterers are experts at what they do; they produce and prepare on a daily basis, so you can anticipate expert advice from them when it comes to making your day magical and the cuisine tasty and enticing! Apart from assisting you in selecting the appropriate meal, Black Diamond Caterer may also provide you with tips and techniques on how to best accessorize the cuisine and excellent presentation skills to dazzle your guests.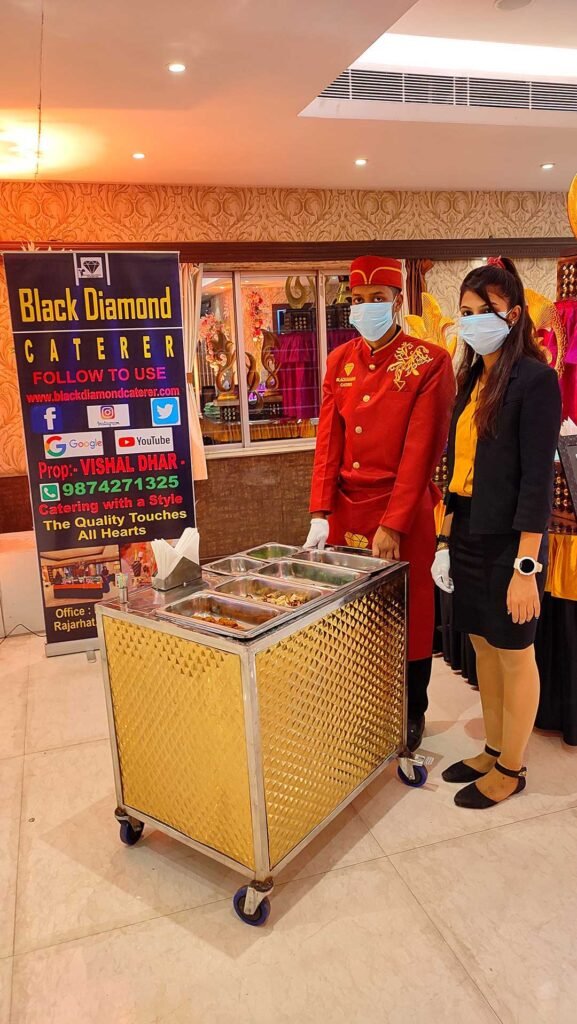 See Why Customers Love Black Diamond Caterer
Best Wedding Caterers in kolkata with Rates
Weddings are one of the most important events in a couple's life. They are often looked forward to with excitement and anticipation, and planning a wedding can be an extremely daunting task. That's where the best wedding caterers in Kolkata come in – the professionals who can take all the stress out of organizing a wedding.
If you're looking for the best wedding caterers in Kolkata with affordable rates and impeccable service, you've come to the right place.
So whether you're looking for an elegant and romantic setting, or something more lively and fun-filled, we are Black Diamond Caterer is the perfect caterer for you. So let's take a look at some of the key features of us.
If you're looking for an extravagant and luxurious wedding catering experience, Then Black Diamond Caterer is your go-to option. With years of experience behind us, we know how to put on a show that will leave your guests speechless. Our menus are carefully chosen to reflect the seasonality of Indian cuisine.


Black Diamond Caterer can be quite catered to a variety of different types of weddings. From low-cost options that are perfect for small weddings, to more extravagant catering that can provide a more high-end experience, there is definitely Black Diamond Caterer out there to fit your needs.


We can accommodate any type of wedding. Whether you're looking for an affordable option that will provide basic food and beverage services, or a more extravagant catering service that offers everything from venue setting to gourmet cuisine, we can meet your needs.
So it's important to find one that offers great value for money. Black Diamond Caterer provides food and beverage services at weddings, corporate events, and other social gatherings.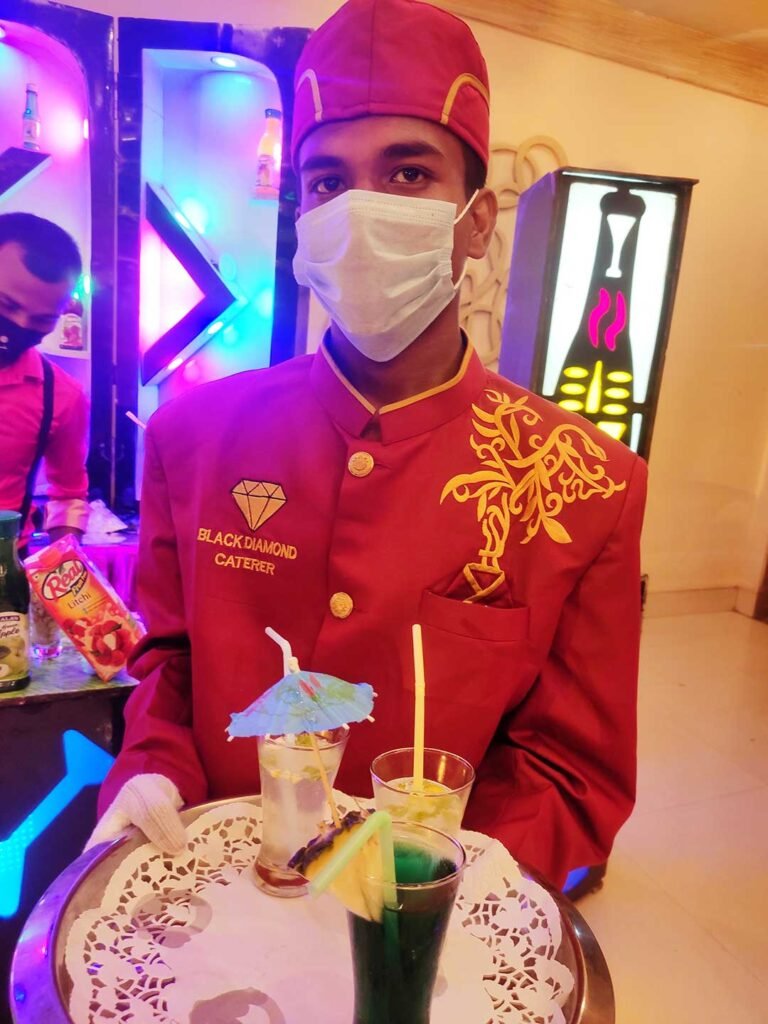 There are many different types of caterers, and the right one for your event depends on what you're looking for. Here are three types of catering options to consider:
We provide buffet catering to provide a variety of food options at set prices, and guests can help themselves as they please. This type of option is good if you want to keep things simple and don't want to worry about setting up and serving tables.


We also create a customized menu for your wedding based on your specific preferences and needs. We'll work with you to create a menu that meets all of your guests' dietary requirements, and will even provide recipes if you'd like them to. This type of catering is ideal if you have a lot of dietary restrictions or if you want more control over the food than buffet catering offers.


When we are planning your catering, we make it important to consider the seating arrangement. We make sure that everyone has a place to sit and enjoy the food, drinks, and conversation.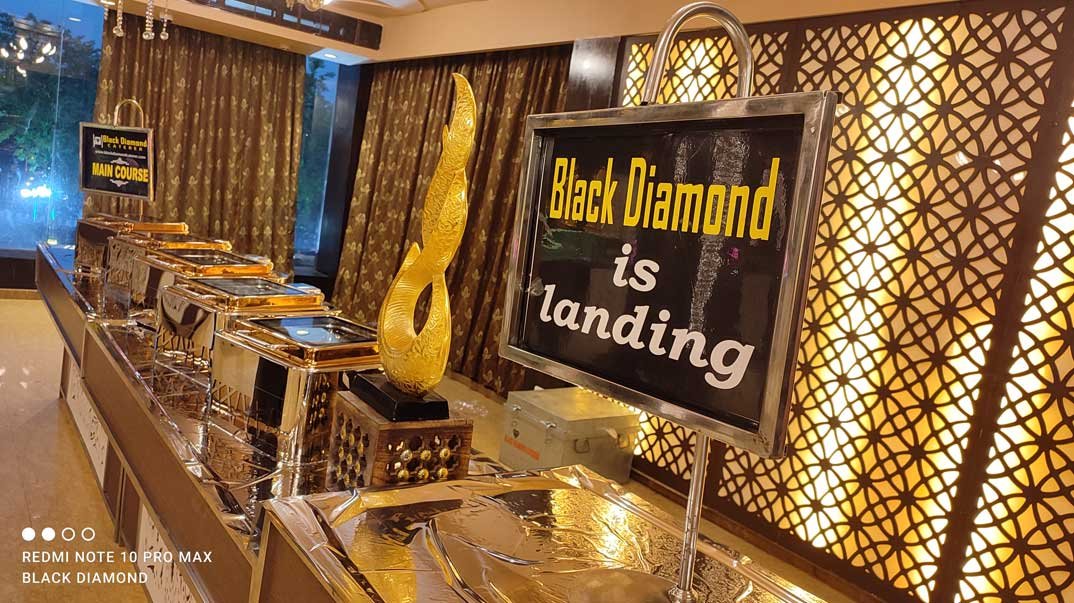 If you are looking for the best wedding caterers in Kolkata with rates that can provide excellent services at an affordable price, you've come to the right place! Black Diamond Caterer offers a wide variety of food and beverage options that are sure to please everyone at your event. From traditional Indian cuisine to international cuisines, our talented chefs are ready and able to create a memorable meal that will leave guests talking long after the cake is cut. Plus, our competitive rates make it easy for you to budget for an unforgettable affair. So what are you waiting for?