Best Catering Services in Kolkata
Catering with a style the quality touches all heart
As the Covid-19 protocols ease down, catering services in Kolkata are once again ready to arouse your taste buds with delicious cuisines. Food served at events is a way to create memorable experiences for your guests. Celebrations are incomplete without scrumptious food. If you are looking to hire the finest caterers in Kolkata, then you are in the right place.
At Black Diamond Caterer, we offer premium quality catering services across Kolkata. We also serve some extended parts of Bengal and Northeast India. Equipped with professionalism and highly trained staff, we cater food that will forever be imprinted in the minds of your guests. Having catered for several occasions, we have the experience to lay a variety of mouth-watering delicacies on your table. Are you planning a celebration soon, or are you looking for a practiced caterer in or near Kolkata? Allow us to cater for your event so your guests can taste our delightful and tasty food.
Black Diamond Caterer in Kolkata
Ever since we have established our catering business, we, Black Diamond Caterer have worked closely with our clients so their event can have tasty food. We value the demands of our customers and ensure their guests have a wonderful experience in their event through our food. We cater the best food in Kolkata while ensuring that your pockets are not hurt.
Our vast menu is cost-effective as we value customer experiences. We, Black Diamond Caterer strive to provide you with the best catering services in Kolkata while considering the budget you have to offer.
Our experienced and knowledgeable team of chefs, cooks, and servers are the pillars of our catering services. They dedicatedly work to deliver the best catering experience to all our clients and are known for their responsiveness in no time. We have meticulously created an exceptional menu for you, comprising of incredibly pleasing food items. As one of the leading caterers in Kolkata, we are also open to adding new items to the menu on special requests. 
Having worked for years, we have a precious list of customers – general and corporate. They have consistently looked forward to our catering services for any events they organize. All of them have given positive feedback about our services.
Don't hesitate! Call us to cater delicious food for your event. Our highest catering services are the perfect solution for all types of events – big and small.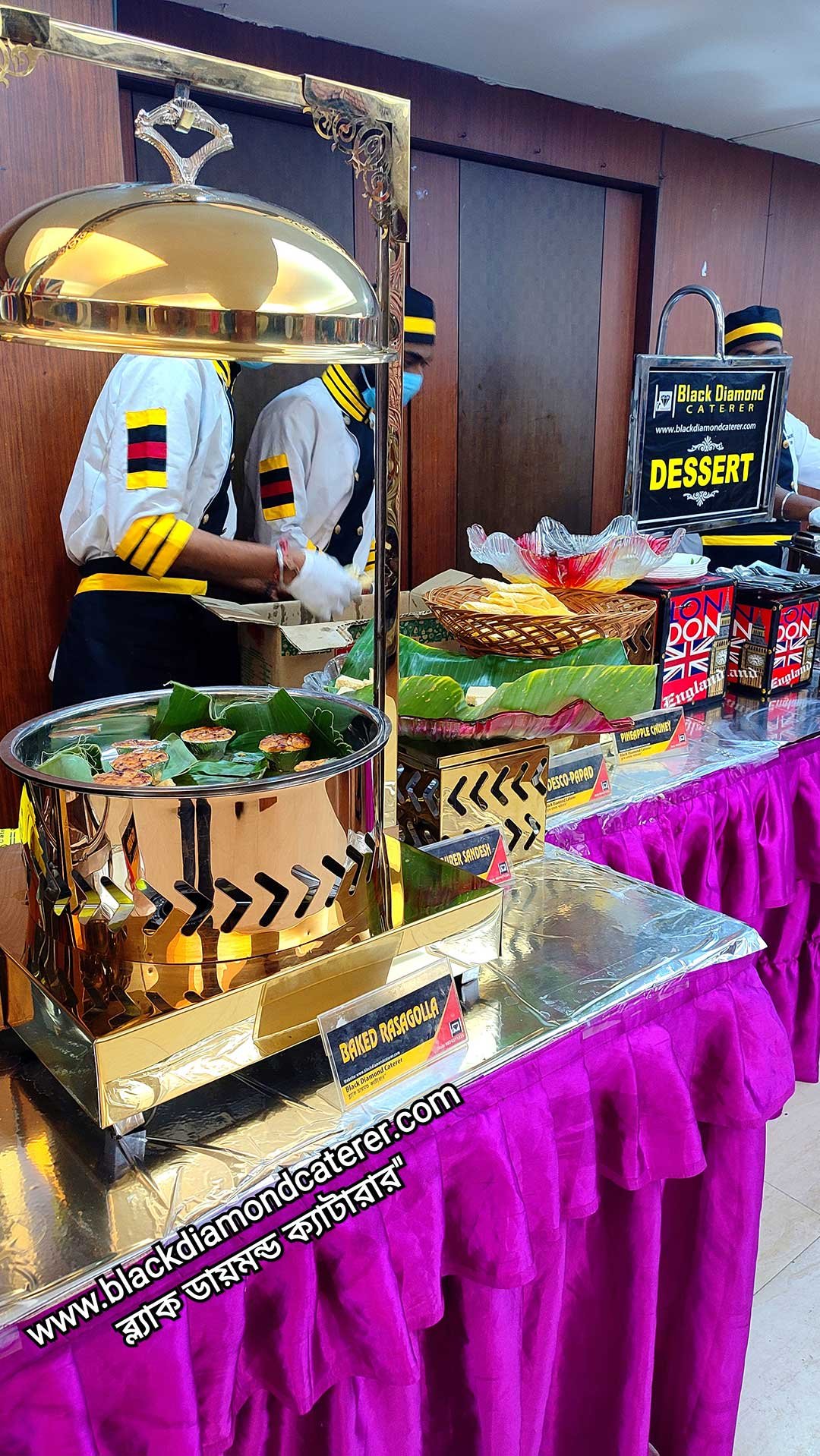 Kolkata Catering Menu at Black Diamond Caterer
As one of the best caterers in Kolkata, offering packages that suit every budget, we are best known for our all-inclusive menu of delicacies. Besides catering authentic Bengali dishes, we are also adept in preparing Chinese, Mughlai, and Continental cuisines. We are skilled in catering a variety of dishes for your event. Despite working locally in Kolkata, we can bring you an assortment of delicacies from across the world. Our newest chefs and cooks are practiced in cooking yummy dishes from our menu and are sure to make your event a memorable one.  
Catering for Small and Mid Get Together in Kolkata
Whether you are looking for a Caterer near Kolkata for a small wedding party or get-together, Black Diamond Caterer has an extensive menu of mouth-watering food items for your event. Our Kolkata catering menu offers both vegetarian and non-vegetarian food items. Along with this, we also offer combination menus for our clients. You can rest assured that every food item prepared by us will be delicious and appetizing. 
Our Menu Items as One of the Best Local Catering Services in Kolkata
Cuisines Offered by Kolkata Caterers
As one of the best caterers in Kolkata, we value our customers and always believe in providing them with quality services. Since catering is all about food, we have a massive menu with local and international food items to ensure every individual's taste is satisfied. Our catering services in Kolkata bring to you dishes from almost every cuisine across the world as our menu includes Indian, Continental, Mughlai, Italian, Chinese, and local Bengali dishes.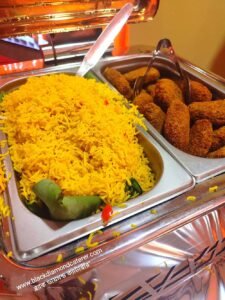 Cost of Kolkata Catering Services
Arranging for an event is demanding and taking care of the budget is even more stressful. However, if you are worried about what we would charge you per plate when catering for your event, then you shouldn't worry about it. Black Diamond Caterer has been trusted by several clients for years because we work with the budget offered to us. Food is an important part of our events, and as caterers, we value this thought. We have created the price of our plates in a way that allows the customers to select their desired dishes at reasonable rates.
Kolkata's Best Catering Services
Our catering services have been providing premium services in Kolkata for several years for a variety of events, both general and corporate. We are adept and experienced to deliver finest catering services in Kolkata and are the first choice for our clientele. Over the years, we have provided our quality services to several events in and around Kolkata. Along with providing catering services, we also help in organizing events. Besides offering lip-smacking food for the events, we also offer our services for other things, including:
Types of Catering Service in Kolkata
Vegetarian Catering
Multi-Cuisine Catering
We offer Self Help Counter, Buffet, Live Counters, Sitting, etc.
Free Consultation for vendor management, menu selection, venue selection and event management
Features of Catering Service In Kolkata
Our crockery is imported Corelle or equivalent Chinaware.
We have trained, professional, and smart English-speaking stewards and hostesses who have graduated from well-known Hotel Management Institutes, who provide services at your events.
The cutleries include steel spoons and forks, imported rolling top steel chafing dishes, and more.
We ensure that fresh cutleries and crockeries are provided to the guests during an event – we don't recycle them.
After usage in an event, all crockeries and cutleries are sanitized. Plates are packed in cloth jackets and prepared for use at the next event.
Find Best Caterers Near Me
Our catering service company specializes in serving at both general and corporate events in and around the areas of Kolkata. Irrespective of the type of event that you have and the menu that you desire, you can rest assured that we are going to meet your expectations. Your guests are going to remember the delicious spread that you provide them at your event. We are experienced and well-equipped in handling catering services for the crowd between 300 and 2500 or more at a single event. We offer our catering services for events listed as below:
Catering Service For Small Get Together In Kolkata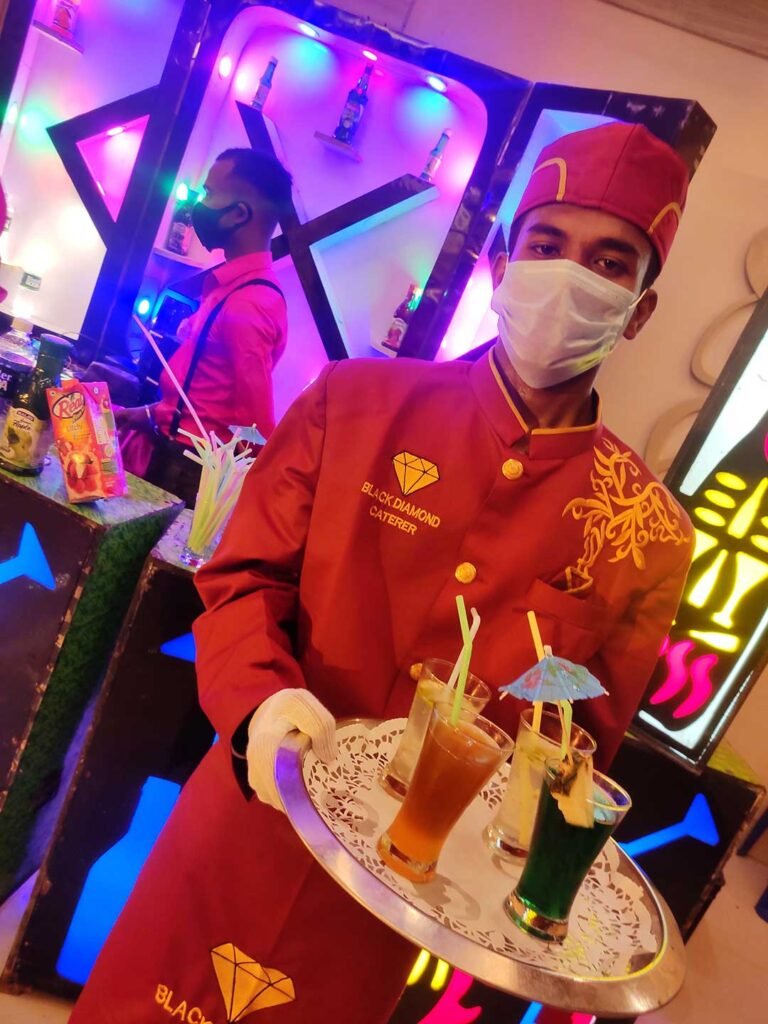 Why Choose Our Local Catering Services in Kolkata
Catering to a wide range of events and armed with the broadest selection of menus, we are one of the Best caterers in Kolkata. Our only concern is delivering quality food at the best prices possible. We believe that only quality food can help make a stronger relationship with anyone. Always rest assured that we will move mountains to meet your needs with premium catering services in Kolkata.
Why We Top the List of Best Caterers in Kolkata?
Are you looking for reasons to choose us as your caterers in Kolkata? Here are some reasons that will help you make your decision:
Our catering unit is hospitality trained.
We have a variety of menu options that allow us to cater to both vegetarian and non-vegetarian events.
With us as your caterers, you will have access to a variety of cuisines, including Indian, Chines, Italian, Mughlai, Continental, and other international delicacies.
Our rates are pocket-friendly and will not burden you. We offer the best dishes in Kolkata at economical prices. With the budgeted menu that we have to offer for you, there is an interesting package for everyone's event.
Our menu is flexible and customizable.
We have several years of experience in catering in and around the areas of Kolkata.
Our employees are trained and experienced in catering to all types of events.
We believe in working round the clock throughout the year.
We are an approved catering company in Kolkata.
We have a well-educated, trained, and educated staff who know how to work at events.
We understand that the event is important for you and your family. Our employees are professional and will stay disciplined at all times.
All the food items on our menu are made from freshly purchased ingredients.
We strictly follow all the COVID safety protocols.
COVID-19 Safety Rules We're Following as Top Caterers Near Kolkata
Our catering company has been dedicatedly offering the best catering services in Kolkata while following all the safety protocols. The pandemic brought down the world to their knees while hampering our daily lives – functions and events were also barred or held with minimum gathering. However, things are slowly going back to being the same, and events too are now going back to their regular ways. As your caterers in Kolkata, we comply with all the COVID protocols set by the national and local health authorities while catering for you in the event. We want your guests and event to be safe and thus have brought about a few changes to the way we work. We have amalgamated safety with our services to ensure that your event is a safe and successful one:
Best Catering Service in Kolkata
We offer a staff-served buffet.
Our catering services provide sanitization pouches in catering areas.
All our team members sanitized themselves before going to the event venue.
All the stewards and the hostesses wear gloves and masks when serving in the event venue.
The utensils and crockery are sanitized after every event.
Our permanent staff members are fully vaccinated.
Prior to every event, the temperature of the staff is checked.
We have mandated our staff members to wash their hands at regular intervals.
Following COVID protocols, we maintain physical distance and request the guests to do the same.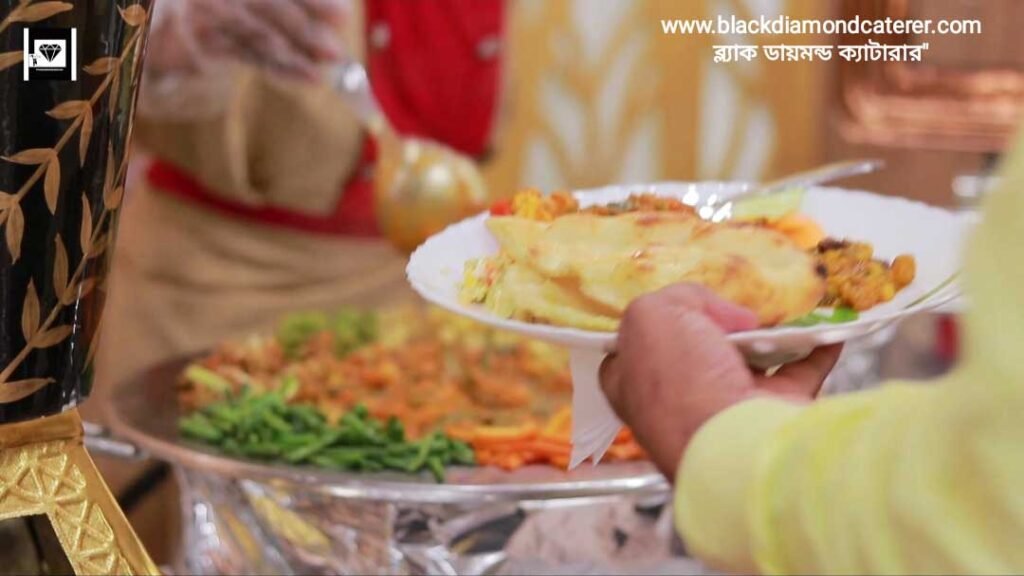 We understand that the COVID safety guidelines may change in the future. Thus, always keep the precautionary measures flexible so they can be changed or adjusted as required by the needs of the government or local authorities.
Best Caterers in Kolkata With Rates
If you are looking for the best caterers in Kolkata with rates, then you needn't go further! You can rely on us to provide you with a grand spread at pocket-friendly rates. We will ensure that your guests receive premium services at our hands while you partake in your celebrations jubilantly, without having to worry about your guests. If you have any queries regarding our services, menu, or safety precautions taken by us, then we are just a call away! Feel free to get in touch with us, and we will enthusiastically answer all your questions and do our best to assist you with your queries.
Call Us For Best Caterers In Kolkata With Rates
Are you looking for the best caterers in Kolkata with a delightful and inclusive menu? You will be amazed at the variety of cuisines we have to offer to our clients, at incredibly economical rates. We work hard to ensure that we add grandeur to all the events with our exceptional services. Our catering services are available throughout the year. You can reach us on our contact details from Monday to Sunday. You can also get in touch with us on our official email id. Once associated with us, you will not be disappointed by our catering services in Kolkata.
FAQ's on Caterers in Kolkata