Birthday Catering Services
Catering with a style the quality touches all heart
Welcome to Black Diamond Caterer
Birthday Catering Services in Kolkata

When you're planning a birthday party, it's crucial to have delicious food. You want those attending your party to be eating flavorful and nutritious meals that are modeled after their culture or interests. Here at Black Diamond Caterer, as one of the Birthday Catering Services in Kolkata, we understand the special request of our clients. The right food can set a positive vibe for any event. Arranging a dinner for your birthday or any other occasion and cooking for large groups of people can be tricky, particularly if you have limited experience.
Finding the right caterer for your event can be hard. As a result, we are one of the best Birthday Catering Services in Kolkata and offer assistance with finding the perfect food.
The best reason to use our BIRTHDAY CATERING SERVICES
Will the food be fresh and high-quality or better than your expectations?
Firstly, you will want to think about your budget and determine how many people you will need to serve.
Apart from the delicious food and entertaining show, there are several advantages of enlisting the best Birthday Catering Services for your event. There are plenty of advantages to hiring a caterer for your event, including:
This saves you time.
Original, Tasty, and Delicious Food.
No more bothersome food planning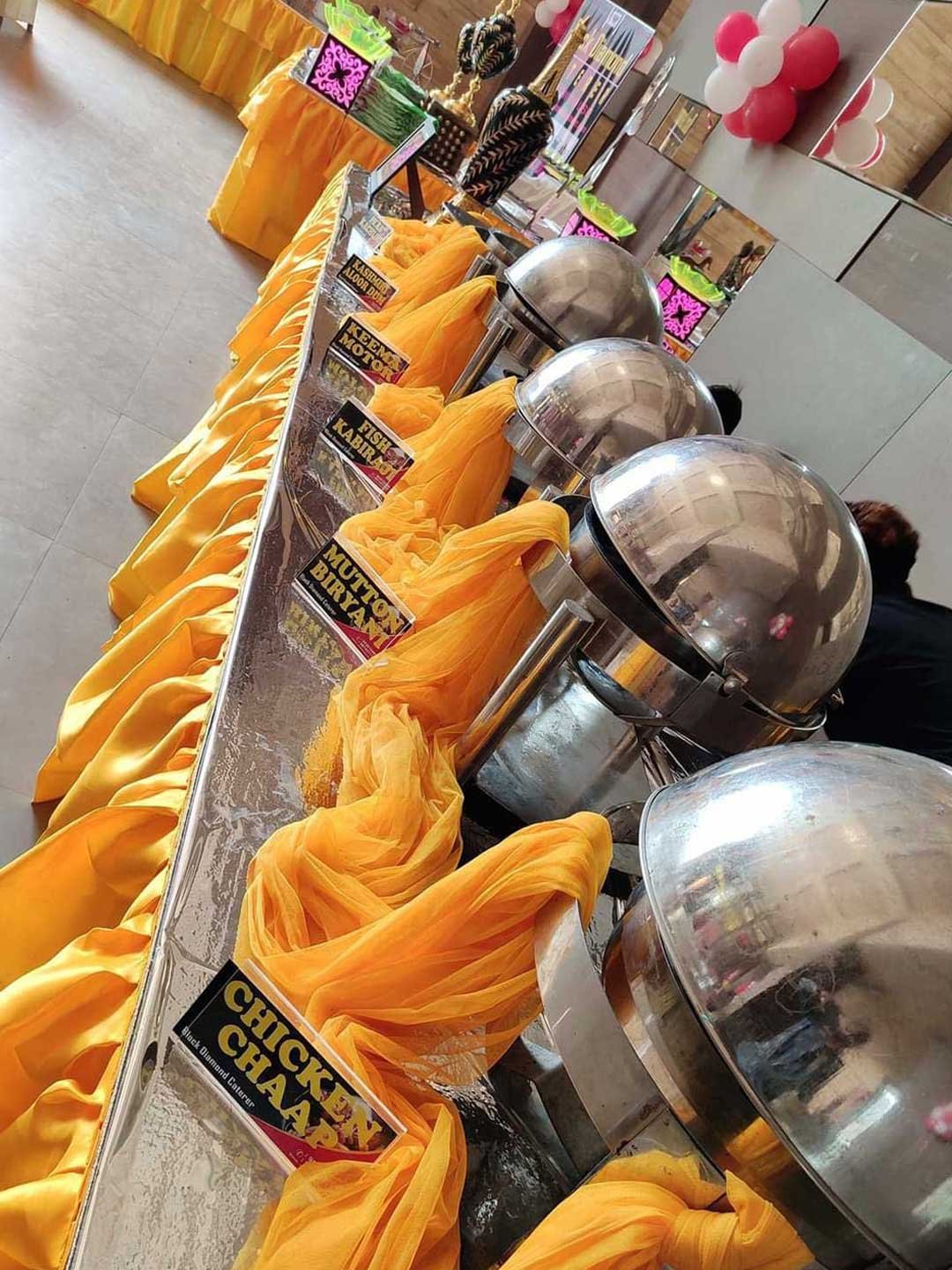 Celebrating your birthday? Our BIRTHDAY CATERING SERVICES will help you throw a memorable party.
A cost-effective option, it's affordable without being cheap.
If you are looking for someone to manage the event food and drinks, no one can do it as well as an expert caterer. With access to wholesale suppliers and knowledge of bulk purchasing, Best Birthday Caterers in Kolkata will be able to get the ingredients they need while saving money. You won't have to stress over paying retail prices for ingredients or worrying about getting enough when only a few segments will be consumed. Additionally, we can break down the cost per person so that you never need to worry about exceeding your budget.


Impress your guests by serving tasty, unique flavors
From personalized menus tailored to different tastes to exceptional catering services for each customer, we can handle all your needs. Simply tell us what you want and we'll do the work. Regardless of if you're looking for a variety of specialized Birthday Catering Services in Kolkata, we'll find ways to accentuate your menu with unique tastes and presentations that will impress. With over 20 years of experience as an event host, we know that it's important to take into account any food allergies or dietary preferences and pass them along. We have experience accommodating special requests so everyone is happy!
Save you time and energy
Arranging a feast, finding the ingredients, prepping, cooking, and cleaning up can take a lot of your time if you do it all yourself. When you hire a catering service provider, though, that hard work gets taken over by someone else. Not only will you get great food as a result – but you'll also have extra time! Instead of wandering through grocery stores looking for fancy flavorings (or putting together your own dishes), you can spend time outside with your guests instead. Best of all, once the dinner is done, all the meal prep is done too – so you can enjoy the day with friends and family instead of frantically washing dishes in the kitchen.



Need catering for a get-together? With Black Diamond Caterer, you'll have the option of great-tasting food for any occasion. Let us know what your needs are and we'll send a quote. Give us a call for more information or to book an occasion with us today!
We know what it takes to achieve your vision and make it a reality. We'll craft everything from menus to spending plans, stylistic layout to mixed drink rundown, and more. We'll work with you to deliver the best experience possible.