Bengali Marriage Catering Services
Catering with a style the quality touches all heart
Welcome to Black Diamond Caterer
Bengali Marriage Catering Services in Kolkata

In Bengali life, food is an important part of marriage or any other occasion. History has forged a personal connection between Bengali and great food which is revived on the most important occasion like a wedding.
Whether you are in the traditional or contemporary style of wedding, food is considered to be the most important item and you need to make sure that the food which is being served is top quality. Until a few years ago, most Bengali weddings used to serve traditional food which gave us a chance to feel the real Bengali style. With urbanization affecting every part of our lives, Bengali wedding dishes have similarly brought about an improved change in the way food is served. So you must have one of the best Bengali caterers in Kolkata who will win the hearts of your guests.
Conventional Bengali Wedding Menu Ideas
Affection for Fish & Other Non-Veg Items

Bengali's love for fish is known all over the country. This is not just fish; it is an important part of the whole menu of favorite Bengali food. A Bengali wedding menu would not be complete without Fish fingers, Fish Fry or Fish Cutlets. Different recipes of Rui, Katla, Vetki, Hilsa fish, and various items of prawn add a unique dimension to the Bengali wedding menu.
Bengali's passion for Biryani is eternal. The inclusion of Mutton or Chicken Biryani in your Bengali wedding menu makes it impeccable.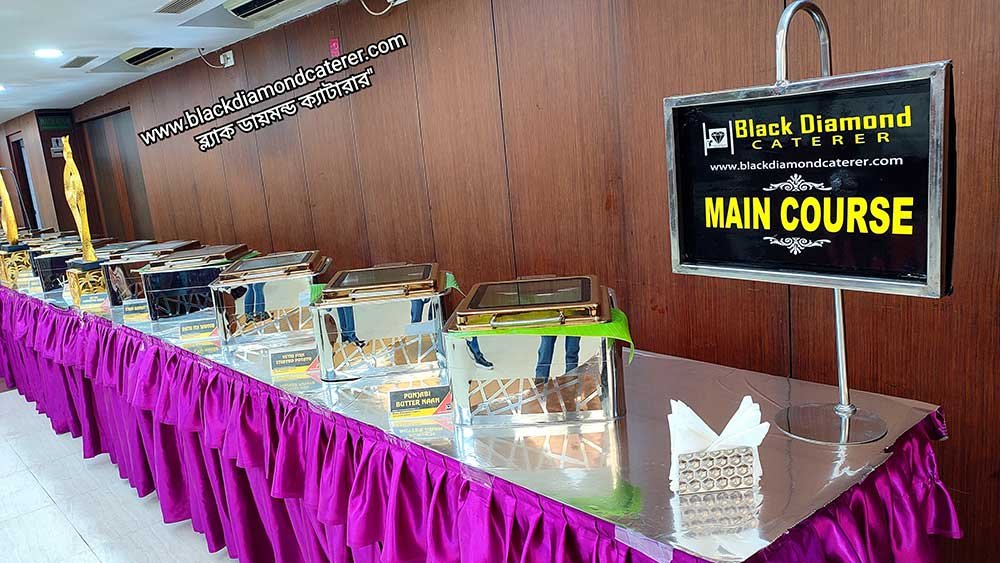 Other well-known non-veg dishes include Mutton Kabiraji & Cutlets, Mutton Kasha, Dak Bungalow, Mutton Curry, and Chicken Rezala, Chicken Malai, and Chicken Curry cooked with tomato sauce, prepared with poppy seeds.
Both the vegetarian and non-vegetarian Bengali food items are served with Naan, Fulco Lucchi, White Rice, Pulao which makes the dinner in Bengali wedding an interesting, delicious, and memorable one.
Different Sweet Items
Conventional desserts are served with Frozen Yogurt and Rose Berries. Bengali pastries are cherished by people from all over India. No matter how big and great a wedding is, it is sure to serve this unique pastry to the guests. The most prominent sweets in West Bengal are Rasgolla, Ras Malai, and Sandesh.
What are the things to be considered before booking a Bengali wedding caterer in Kolkata?
Your Venue – Wedding Catering should be tailored to your preferred location. You have to decide whether it will be buffet or seating.


Menu – It is important to make a final decision about the menu before booking a Bengali catering service in Kolkata because you should have an idea of what kind of food you want to serve to your guests. Many Bengali wedding caterers in Kolkata have pre-prepared menus of various Bengali traditional-themed dishes.


Do caterers have alcohol liability insurance (if they supply alcohol)? It is important to have insurance to serve alcohol to your wedding caterer. Most Bengali wedding caterers in Kolkata have this type of insurance but it is better for you to be sure.


Does the caterer specialize in certain cuisine- This is certainly the most important question that needs to be asked before booking Bengali wedding catering services in Kolkata. It is important to ask if you are planning a specific type of item.
Bengalis have great affection and attraction about food, and marriage is the best time to treat some great foods to your partner friends, and relatives.