Wedding Catering Services for All Bengali Weddings
Catering with a style the quality touches all heart
Welcome to Black Diamond Caterer
Wedding Catering Services in Kolkata

Every Bite Of Our Food Has The Energy And Passion With Which We Create It!
Are you looking for the best catering service in Kolkata ? Look no further; Black Diamond Caterer will put together a personalized and unique menu that best suits your individual taste.
Hire the Best Caterer in Kolkata
It is our belief that food enlightens the body and mind. It is something that we cherished ever since we laid the foundations of our catering services company. We have always prepared food that promotes the purity of living. We offer the most authentic local Bengali dishes along with other cuisines from across the world, including Indian, Continental, Mughlai, Italian and Chinese dishes. We have an experienced catering team that will take care of all your catering requirements.
Best Caterer in Kolkata for All Bengali Weddings
Entrenched in cultivated experiences, we provide first-rate catering services for all Bengali weddings in Kolkata. We have worked in a variety of weddings and have an exhaustive list of clients in and around Kolkata. We pride ourselves in innovation and leave behind a trail of honesty wherever we provide our services. We will work with you and create a menu that fits your budget and will be enjoyed by your guests.
Delicious Delicacies for Bengali Weddings
As a distinguished and one of the best caterers in Kolkata, Black Diamond Caterer offers you a comprehensive menu with a variety of mouth-watering dishes to delight the taste buds of your guests. We love seasonal ingredients and like to purchase local and organic items for our dishes. Everything is purchased fresh from local markets and vendors to ensure the dishes are appetizing and flavorsome. We ensure to highlight these especially available ingredients of the season so your guests can have a unique culinary experience at your wedding event.
We have mastered the dishes over the years to ensure their perfect taste, aroma, and presentation. The dishes are prepared with fresh ingredients, and their exact recipes, ensuring they are distinct in flavor and delicious to taste. We offer a repertoire of cuisines to select from. All the dishes are prepared by accomplished cooks. Our exclusive menu is flexible, and we will be happy to accommodate any culinary requests that you would like to have in your event.
Types of Catering Services Offered by Us
Non Vegetarian Catering
Multi-Cuisine Catering
We offer Buffet, Live Counters, Self Help Counter, Sitting, etc.
Free Consultation for vendor management, venue selection, menu selection, and event management
Why Choose Our Services ?
Weddings are important events, and you definitely want them to be perfect, just as you have envisioned it. One of the major parts of organizing an event is the catering services, and you definitely want it to be perfect. We understand your dilemma of ensuring that the guests are served fresh and tasty food, hence we provide you with our standard professional support to plan, decide and finalize a distinct menu for the event. Our team of experts will guide you through the details of creating a perfect menu, so things go flawlessly on the main day of the wedding event.
With us as your catering service provider, you are in the best hands. Collectively, our team will ensure that your guests including VIP people will leave the wedding with praises for the dishes served in your event. Offering the best catering service in Kolkata, we will execute everything impeccably. From cooking the dishes to serving them to your guests, we will manage every little detail of the catering services so you, along with your friends, family, and VIP people or guests, can enjoy the special day.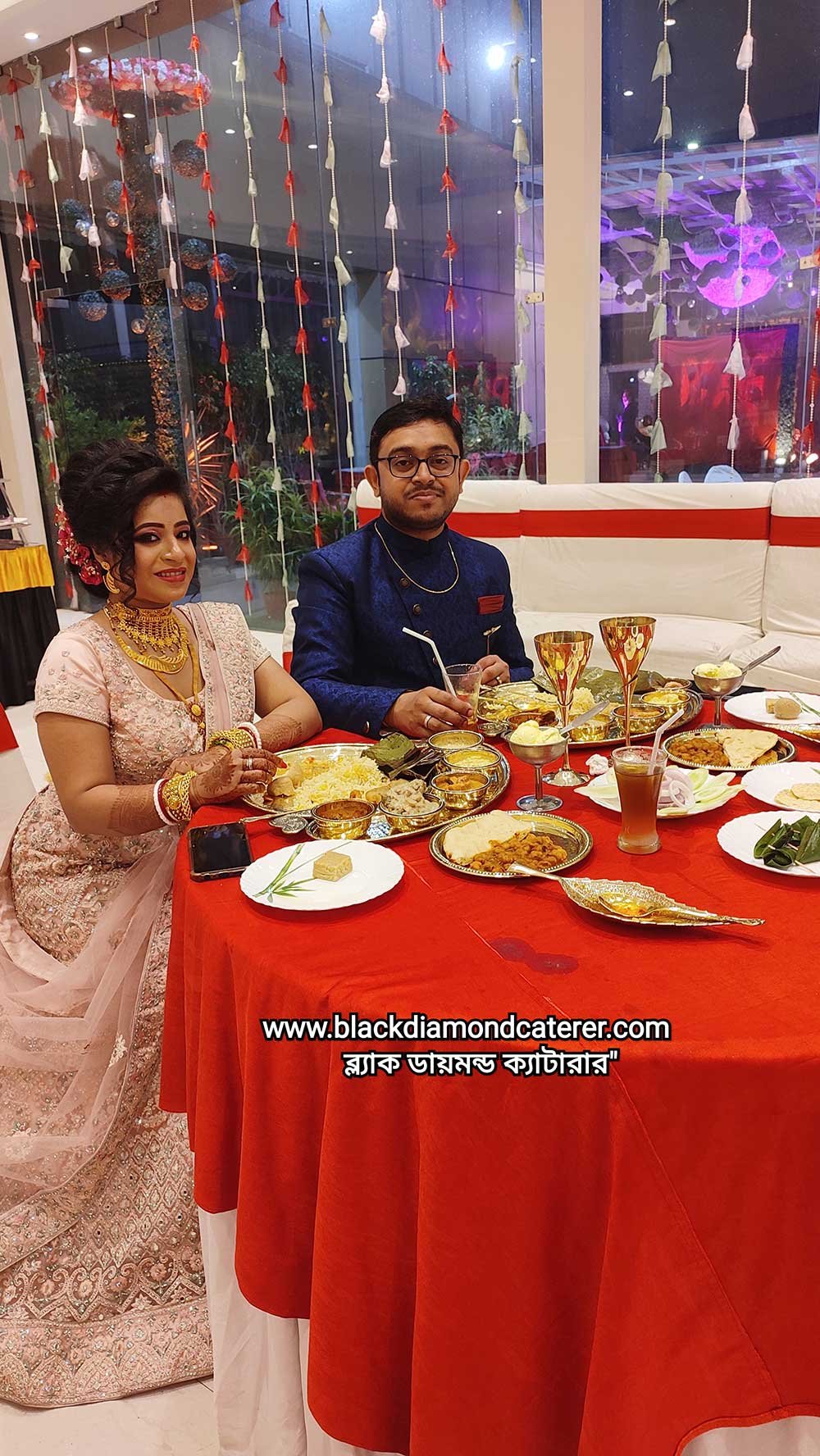 Driven by Passion to Provide Best Catering Services in Kolkata
Eating should be fun, so eat and enjoy with your guests as we take care of the catering services for your wedding event.
As the standard and best caterer in Kolkata, we are driven with a passion to provide an elevated dining experience to all our customers in and around Kolkata. When you choose us as your catering service provider, we ensure that every little detail of catering is taken care of cautiously. We pride ourselves in having a team that has the ability to offer remarkable services that will make your occasion a memorable one when it comes to food.
Catering for High Profile Clients
Black Diamond Caterer has a list of elite clients, which include the society's prestigious people, celebrities, and VIPs. Wedding is more than just a function for us; it is a joyous occasion that lives in our memories eternally. Food happens to be the main element that elevates this experience, making it even more memorable. We create menus that are specific to family's social and cultural expectations and prepare and serve tempting food that exceed expectations. We like doing this out of the ordinary for every VIP wedding that we cater for.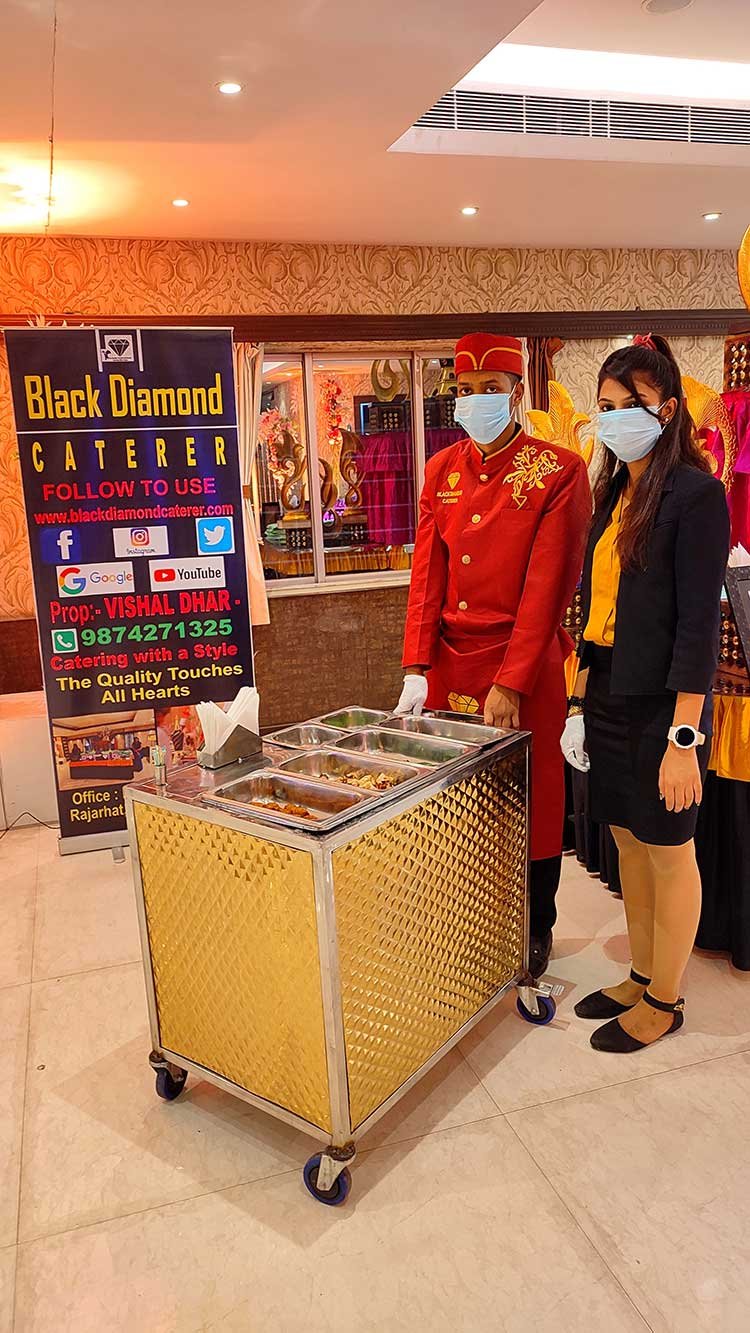 Cost of Hiring the Best Caterer in Kolkata
A wedding for any family is not just important but also an expensive affair. We understand that each one may have a different budget to manage the catering expenses. We have a comprehensive menu that offers many dishes. Our menu is pocket-friendly, and we ensure that we can create a delicious yet economical menu for your wedding event. We work closely with you to custom-create a menu for your guests that not just fits your budget but also includes a variety of dishes of your choice.