Wedding bells are on! And in India, a wedding is an extravagant affair. From decorations to catering, everything needs to be perfect. Planning and organizing a wedding event is a great responsibility and, at the same time, quite a tedious job.


Henceforth, finding the best caterer in Kolkata is a tough task to accomplice. Weeding catering is one of the biggest expenses of a wedding, and it should be the best because the primary focus of any wedding is food.


Many of us underestimate the catering services and don't even bother about that. A little preference is given to wedding caterers. But, caterers play an essential role in organizing a wedding lavishly and uniquely.


Before you narrow down any caterers for a wedding, check out these simple points about catering and how catering services help organize a wedding.
Why catering is important ?
Catering is something that people need in any event either it's a wedding, an occasional office get-together, anniversary party, or more, food is something that should be delicious and satisfy your guests' taste buds.


Everyone will talk about the food, its taste, and its presentation. The food served at a wedding can make the event splendid or wash out your event. So, investing in wedding caterers in Kolkata is a good way to get yourself from jitters of food and its taste.


With the wedding caterers, you can take off your duty of food from your shoulders, and now it's all up to the catering service provider to manage guests' taste buds and impress them with their flavors.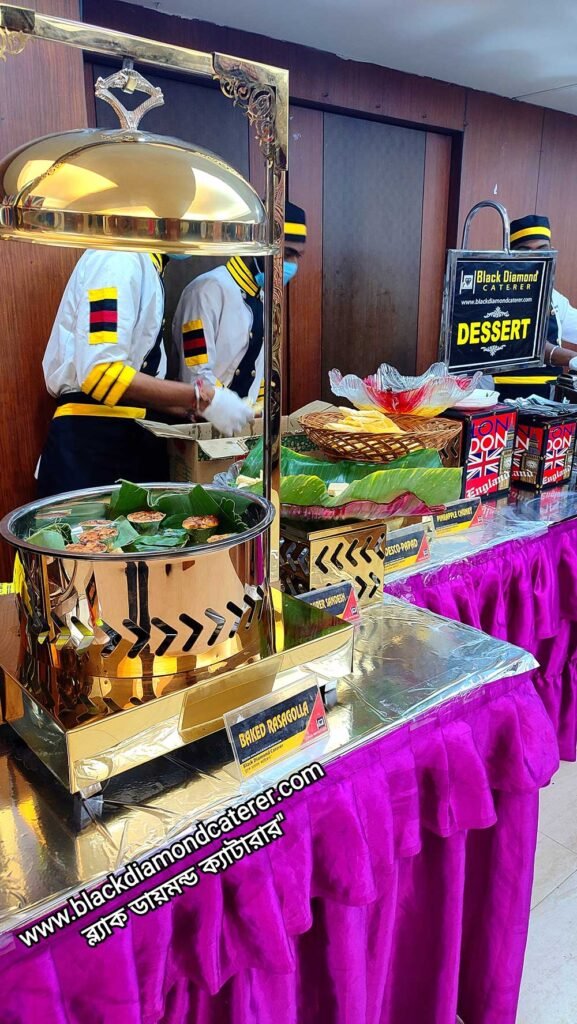 How does a catering service help in organizing a wedding ?
Catering service is the backbone for the successful execution of plans. They help in the preparation and serve quality food flavored with different spices and lots more that your guests would love. The caterers in Kolkata offer some additional catering services that will also take away all your worries after the wedding. Let's check out some of the major catering services that can wow your guests.
Flavors of local ingredients – People love something that is remotely grown and has unique taste and flavors. Nowadays, local delicacies are the hottest trend of catering. When traditional food flavored with unique spices is served at a wedding, they attract huge guests to the food table. Here, a wedding caterer wins the game by serving the best taste foods. You can't take such a big responsibility as caterers provide service in many areas and they know what will be loved by the guests or which flavored food they would like. So, off-load your duty of food to caterers in Kolkata this wedding season!

 

Foods of your choice – When it comes to choosing the food menu for the wedding ceremony, the primary thought is selecting dishes according to the area in which you are residing. The caterers move and serve food to the hundreds and thousands of guests. They are aware of the taste and demand of dishes that people mostly like. It would be child's play for caterers to make a food menu for your 100 or 1000 or 10000 guests. You need to reveal only the number of guests to them. All will be taken care of by them. Hence, the catering service also manages the food menu and food guest list, and caterers in Kolkata will let you free from the food section.

 

Managing shortage of food – Shortage or extra food has always been a problem in Indian weddings. Sometimes guest list exceeds. In this situation, the best caterers in Kolkata manage the shortage very conveniently without letting you know that there is a food shortage. But, imagine if the caterers were not booked to host food to your guests, what would happen? You will jitter over the scene, and some guests had to leave a wedding without having food.

 

Unique desserts and sweets – Who doesn't like sweets? As trends are shifting towards healthy eating and sugar-free sweets, caterers are more aware than you of how to present unique desserts to maintain the delicious taste. They have expert hands in these things, they can manage everything in one go, and their innovative, healthy, and customized desserts can bring a smile to your guest's face. Either your guests want indo-western desserts, or a sweet fusion caterer can serve them everything. Your caterers will give you ample options to choose from, like artisanal Kulfis, ice cream, chocolates, cookies, etc., that will please everyone present in the crowd.

 

Balancing food and service – At Indian weddings, it is essential to manage time and food. The food should be of top quality; you have served hundred dishes or ten dishes; it doesn't matter. Everything should be loved by the guests attending your wedding ceremony. If you hire a caterer in Kolkata they will ensure that your guests get the right food with unique flavors at the right time. If you book a caterer, then be assured your wedding food menu will be remembered for years!

 

Consider the venue and theme – Nowadays, people love food when they don't have to hassle and stand for hours to eat food. So, when you hire a wedding caterer in Kolkata, they present the food in a more convenient way to please your guests. The caterers can manage the heavy flow of guests that is not possible if you don't book a wedding caterer. Despite more guest caterers, everyone will get their favorite food at the wedding. In this, you don't have to worry about serving food on the guest's plate.

 

Style of serving – India has a mixed culture with different styles for presenting the food. Traditional weddings have two or four seated meals with servers, while in South Indian weddings, guests are served on a banana leaf, while in modern weddings, there is a buffet presentation. If you book a caterer, they know about all this, and you don't have to put extra effort to make them understand the culture. They will suggest to you by themselves how to present the food within budget.
When you book a caterer, you have to put less effort into the food section. They will arrange everything so that guests would love it and your wedding ceremony will be remembered for the years.


With professionalism, your guests are delighted with the mouth-watering and unique dishes by the wedding caterers in Kolkata.


Whether it is Sangeet, Mehendi, Haldi, or wedding night, they will always focus on the number of guests. They keep in mind the number and always manage to serve food if the guest list exceeds.


The top-notch caterer in Kolkata adds value and shows responsiveness in their behavior with years of experience while serving your guests.
Last but not least your wedding will be a memorable event and remembered by your guests if you take the best and quality catering service in your wedding!